How Long Does it Take to Build a Modular Home?
Nov 23
There are many advantages to modular construction – but perhaps the biggest reason that more and more people are choosing to build a prefab home is the faster build time. The idea of moving into your new home in a few short months after construction begins is really appealing, particularly in the current climate where many traditional building projects are experiencing significant time delays and cost blowouts.
So, exactly how long does it take to build a modular home? And how does this compare to a traditional, site-built home? In this article we break it down, from the pre-construction stage right through to handover to help you decide if a modular home is right for you.
Breakdown of time it takes to build a modular home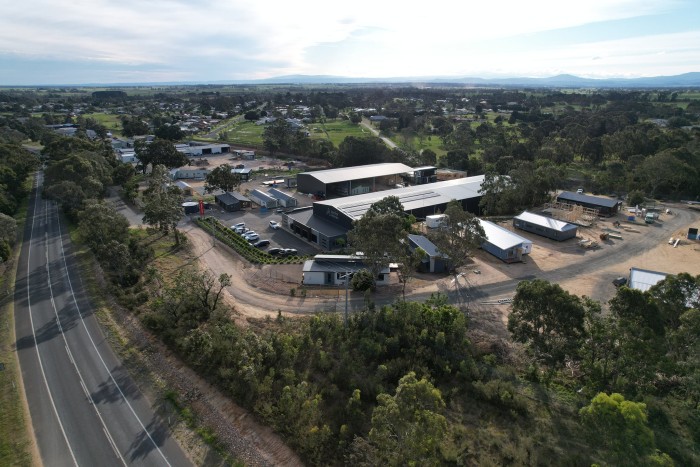 When you build a modular home, the time it takes from when construction starts until the build is complete and ready for you to move in is generally 16–22 weeks. To break this down further, see below for the timings on each phase. Please note, the pre-construction phase (design and planning) is not included in the build time.
Factory building phase: 8–12 weeks in our manufacturing facility.
On-site building phase: 8–10 weeks on your land.
Due to the wide variety of designs and site conditions, the above times are estimates. We provide project-specific timeframes during the pre-construction phase once we discover more about your land and you have chosen your modular design.
What is involved in each phase?
The modular construction process can be broken down into three phases: pre-construction, factory construction and site construction. You'll find a detailed summary of what is involved in each phase on our process page, but for now, here's an overview.
Pre-construction phase: during this time we'll design and draft your new home, and arrange all the necessary reports and documentation that must be completed so that construction can commence. This includes:
Site engineering reports – soil testing, BAL rating, wind rating, site feature survey
Design and drafting – preliminary drawings, joinery design, construction issue drawings
Energy rating and planning application (if required)
Colour and specification consultation. 
Once the pre-construction phase is complete, the contract is initiated and we'll apply for a building permit. Once the permit is received, we'll start building your new modular home in our factory.
Construction – factory phase: This phase can take anywhere from 8–12 weeks depending on the size of your home and any customisations. Your new modular home is constructed to around 90% completion in our manufacturing facility by our experienced team of builders and qualified tradespeople. During this time, we'll keep you updated on the progress, and you are welcome to arrange a visit to see for yourself how your home is coming together. Once complete, the modules are delivered directly to your land by our specialised transport fleet, ready for installation.
Construction – site phase: Our on-site team will complete the installation of your home, and this phase takes around 8–10 weeks. During this phase we will complete the finishing touches, including:
Join the modules and install onto prepared footings
Install sub-floor cladding
Connect town services (e.g. power, water, sewerage)
Install any decking, verandahs, alfrescos, garage or carports
Install any optional extras (e.g. air-conditioner, light fixtures, etc.).
What external factors can impact your build time?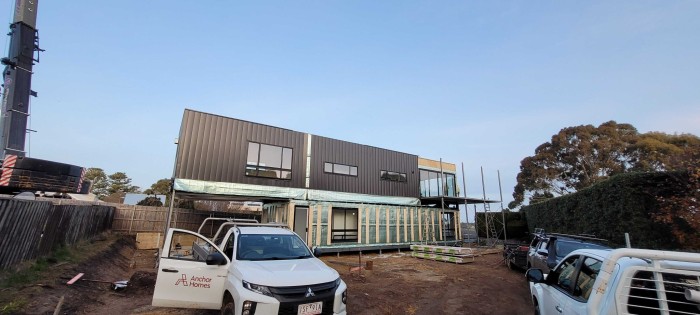 The above timings are based on a typical build, however, there are some external factors that can occasionally impact the overall project time. These include: 
Planning permits: The majority of new home builds require a planning permit prior to building, and it generally takes on average 3–4 months to receive council approval. However, the spike in new home builds in recent times has led to a backlog at some Councils, resulting in delays with the processing of some applications. When the application is completed early in the process, it should not slow the build down by much as you can be finalising your design and specifications while council are reviewing your application.
Site preparation: When you build a modular home, our on-site team will work on preparing your land while your home is being built in the factory. This includes preparing footings and completing any excavation work that needs to be done. This overlap is one of the key reasons a modular home is built much faster than a traditional home built on site.
Finance: Getting finance on a modular home does require a slightly different approach than a traditionally built home, and our team can offer advice to assist. You can initiate the pre-construction phase before finalising finance, which will give you enough time to gain final approval (or pre-approval) on your finance prior to entering the contract/build phase.
Is modular construction faster than a traditional build?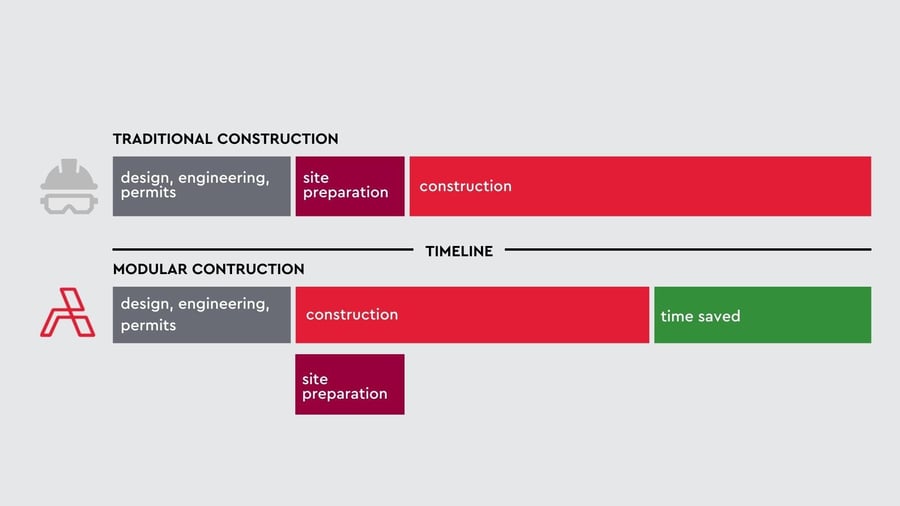 So, how does the time it takes to build a modular home compare to traditionally built homes? As the above image shows, modular construction is much faster, thanks to the streamlined, off-site building process and the overlap with site preparation. While a traditional home can take up to a year, or even more, to complete, a modular home takes an average of 16–22 weeks from commencement of construction through to completion. This makes modular homes an extremely cost-effective and efficient choice.
Keen to find out if modular construction is a good fit for your new home project? Chat to our team today!